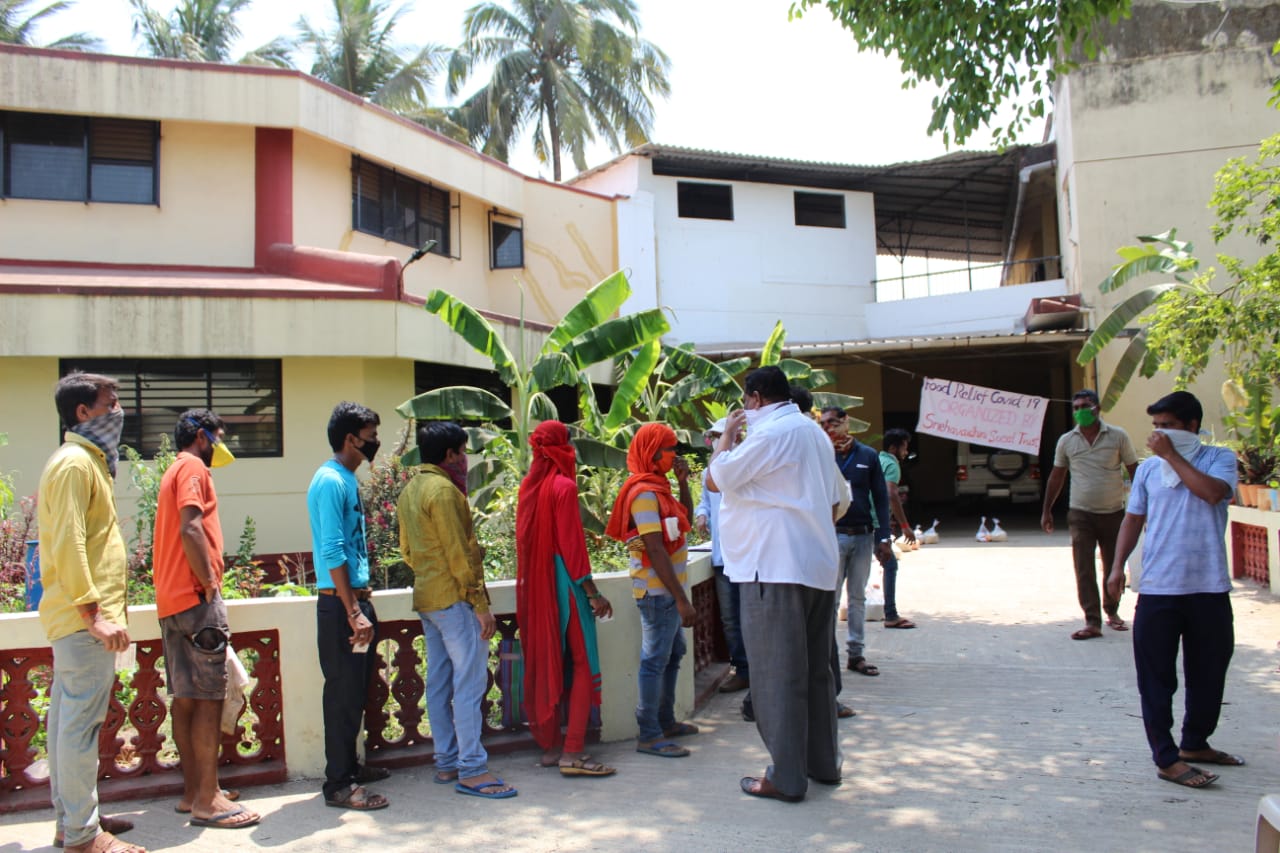 20 Apr

we move…/india

Activities done during Covid lockout days by the Region of India. Click for video

Roha Community:
Distributing food materials to Kathkari tribal villages, migrants who live in poultry farms, people from North who are daily wage earners , needy parishioners etc. So far they have covered 1574 families in 45 villages in which 36 are tribal villages and others are migrants, daily wage earners and poultry farm workers
Distributed masks and hand sanitizers to both the Primary Health care centers and police stations
Work in collaboration with the Tahsil and Police station as they have given them the authorized IDs to reach out to the people; they also refer people to them so that they can reach out to them. In the beginning police used to accompany them for their protection.
Fund raising: they plan to target 2000 families in 50 villages with immediate effect out of which they have already completed 1574 families in 45 villages. they have managed to raise nearly 9 lakhs for this purpose and they will be able to continue this work if others continue to reach out in generosity
Think Tank Team of Mumbai Diocese: Sr.Brigit is part of this team and actively participating in planning out immediate and long term reach out programmes and accompaniment of the people of Arch Diocese of Mumbai. The people are very cooperative and appreciate the humanitarian work they are engaged in.
Mumbai community:-
Reached out to nearby slum area by distributing grocery kits to the families
Helped the poor families of the differently abled children by giving groceries
Dilkhush teachers are giving online work and activities for the children
Collaborated financially with Roha community
Mangalore community: –
Sisters with ACI family members prepared kits with necessary food items and distributed to some poor families
Odisha community:
To the Neighborhood: The local people were not aware of the seriousness of the present situation and they were going around without any precautions. So, Sisters got the permission to stitch and distribute the masks from the Deputy Commissioner. So, they provided masks and soaps in their locality.
2. To Rickshaw pullers:
a. Distributed grocery kits to their families.
b. Helped them to go back to their native by providing travelling allowance.
c. Two of them were helped with rickshaws which can carry goods.
Vypin community:-
a. Mask Preparation: Prepared masks and distributed them to hospital staff and police stations in coordination with the parish community.
b. Preparation of sanitizer: Prepared hand sanitizer with the Parish Youth and distributed to the pedestrians.
Snehanilayam community:-
Migrant workers: Conducted awareness as to prevent the spread of Covid -19 to:
a) Migrant men construction workers at Chembumukku, Kakkanad and distributed rice, soaps and masks to them
b) Women migrant workers at Eramalloor where we began providing liturgical services this year.
Field of disability: a). conducting online classes and accompaniment on different sessions like occupational, speech and physiotherapy and other curricular and non curricular activities.
b). Online counseling sessions to the parents of the intellectually differently abled children.
c). Prepared a video on Covid -19 awareness with the Down syndrome children and uploaded in the face book and u tube.
d).Conducting competitions for parents with attractive prizes and prizes will be distributed when the school reopens.
With the youth and women of the parish: Prepared masks and distributed them to different police stations, auto drivers, health centers and other poor families
Joining with Vypin community: prepared a small video to create awareness to prevent Covid – 19 and uploaded in Face book.
The common activities done by all the communities are:-
Special Prayer Services: We conducted special prayer services, Divine mercy, rosary and every sister spent 2hours with the Eucharistic Lord.
The children, youth and women who are undergoing depression during this quarantine we are reaching out to them through phone calls and make our virtual presence felt in their lives and that of their families. Thus becoming the agents of healing and reparation.
We find ourselves in uncertain situations and Covid – 19 is affecting our lives in completely unexpected and ever evolving ways. However we are trying to reach out to the people around in the ways we can by united with the suffering and listening strictly to the government rules and regulations thus becoming the messengers of hope and faith through our loving services.
May the Lord continue to inspire us in all that we do and protect us and all the people from all harm.
With much love and prayers
Region of India