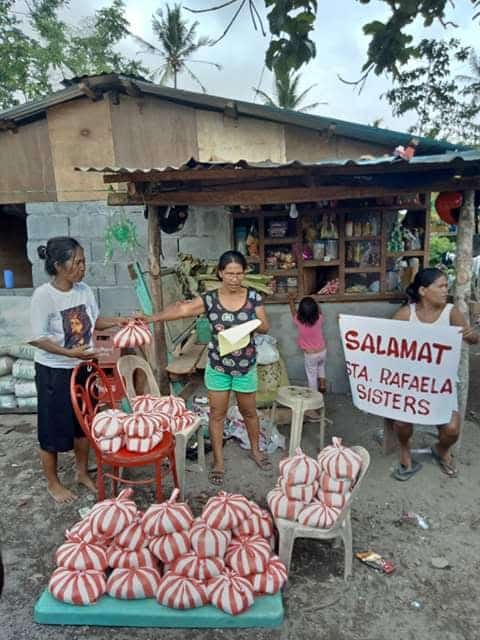 21 Apr

Empathy and compassion move us…/philippines

More than one month ago have passed since our President placed the entire Island of Luzon on lockdown "Enhance Community Quarantine" to contain the explosion of Covid-19 cases in the country. After the announcement many of the Filipinos such as street vendors, scavengers, drivers, etc. weren't able to sustain themselves because they lost their source of income. In this situation, where they could get the money to buy food, medicines, etc. Many are feeling the hardships of the Convid-19 pandemic and they are now facing the risk of starvation especially the migrants and marginalized.

Empathy and compassion moved us together with FACI to do some concrete actions in response to some crucial areas of justice that affect the poor. Here are some of the initiatives undertaken by the 5 communities in the Philippine Vice-province to combat the effect of COVID 19 pandemic
Repairing homes for the homeless, while in lockdown we are asked to stay home but others have no home to go back to … like in the case of many families in our apostolate in Naga City and Daraga. This simple project started as our response to some victims of Typhon Tisoy; it is on- going to some; being continued until this time of COVID 19. Now with their homes repaired, they also are provided with food to eat.
Providing food packs for the hungry and jobless daily wage-earners as in the families in our apostolate in all our 5 communities in here in the Philippines; and to some frontliners in the hospital in the case of Catigbian, Bohol.
Some of our lay partners-ACI Family (Loyola) are sewing facemasks for sharing.
Caring for the earth, our common home by getting close to nature with our daily community gardening, observing earth hour (One-hour- No electricity); waste management, etc.
Networking through financial contributions – to our respective parishes and Dioceses, barangays, religious Organizations, and especially to the Association of Major Superiors in the Philippines in support of their initiatives (Preparation and distribution of improvised protective Gear; Housing of Street dwellers and Other Vulnerable Group, Spiritual Support, Provision of Food Packs and Meals).
Indeed, this time is a good time to deepen our faith and become bearers of light for our fellowmen.
The spread of Convid 19 offers urgent opportunities to mobilize for fundamental rights and dignity and equality for all.
Sr. Lani Saligumba, aci