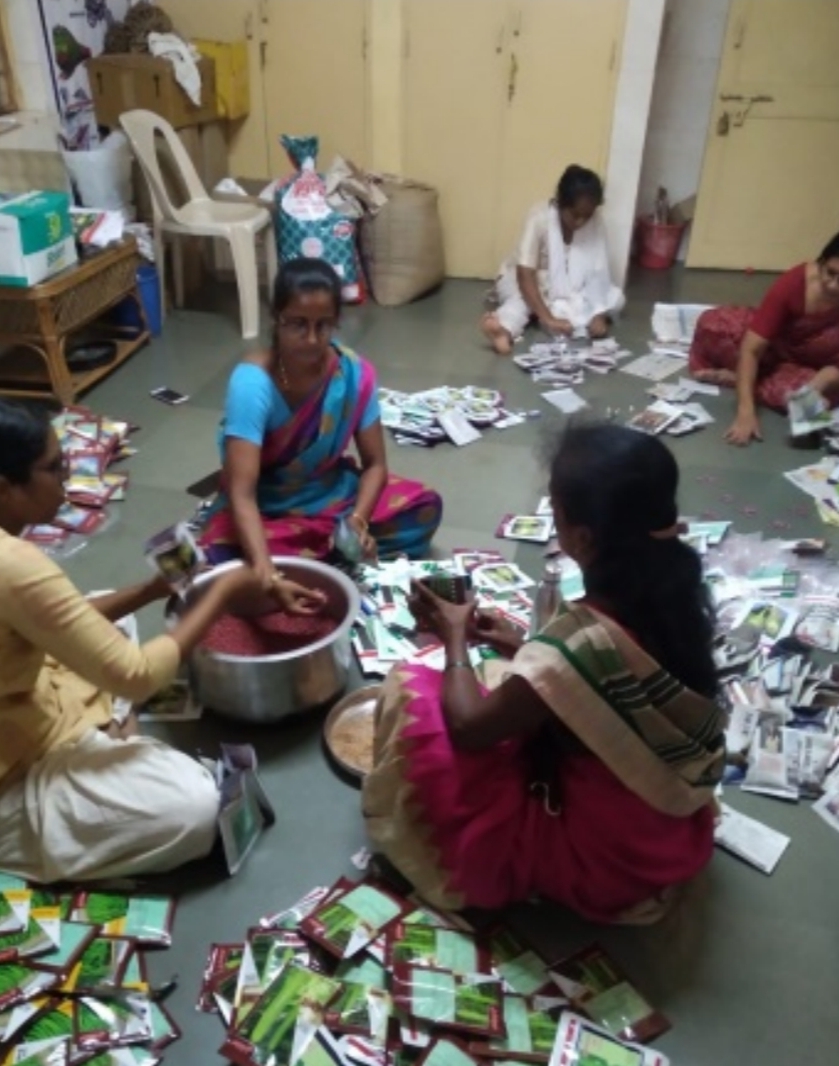 19 Sep

covid has left MIGRANTS:hungry, unemployed, homeless and malnourished/india

COVID 19 and NISARGA Cyclone have worsened the situation. It has left them hungry, unemployed, homeless and malnourished. Following are the interventions which Roha Community has done through their social centre Snehavardhini Social Trust:
Distribution of Dry Ration kits: Snehavardhini Social Trust distributed 4370 dry ration kits in 47 villages of which80% of the beneficiaries are migrants both at the resource and destination at Roha, Pen and Mahad Taluka.
The Kits which priced from Rs.500/- to 850/-contained Rice, 2-3 types of serials, spices, oil, sugar, tea powder, salt, biscuits, onion, potato, soaps, etc which will help the families to survive for 15 days, while the ration kits which costed Rs.3250/- was consisted of Rice, wheat flower,2-3 types of serials, spices, oil, sugar , tea powder, salt, biscuits, onion, potato, soaps, cleaning articles , sanitizers, masks, toiletries etc which could help the family survive for nearly two months. We distributed the same soon after the Nisarga Cyclone as the people were devastated after they lost everything in the cyclone. The total cost of the dry ration which we have distributed is amounted up to Rs. 3,710,750/- in which 1,500,000/-materials were directly given by the network funding agencies, Rs. 1,00,000/- was contributed from the Region of India and Rs.2,110,750/- was raised in cash and kind by the sisters of Snehavardhini in collaboration with other Handmaids, friends and well-wishers.
Repatriating and reuniting the migrants from different states: Snehavardhini Social Trust in Collaboration with the local government administration and people of the villages reunited 284 families who were stranded in other states and in distant parts of Maharashtra. We submitted the application to the Tahsil office and assisted them in bringing people back, provided dry ration for 15 days which was their quarantine period, monitored the health check-up and stay facilities as they had to stay out of their villages.
Health prevention Kits: Snehavardhini Social Trust distributed in collaboration with HPT (health promotion Trust ) 2500 health prevention kits which included hand sanitizers, Soaps and masks etc to health workers, Primary Health Care centres, Police, Government administrative offices, 10 villages etc . The centre also plans to distribute CELIN, a vitamin C tablets to 300 families in collaboration with Elppe Company PVT LTD. Nutritional Kits: We have distributed Nutritional Kits worth 25000/- to the villages which includes migrants to foster their immune system and have given them the awareness on herbal medicines that would create awareness to boost the immune system which will enhance the prevention of COVID 19
Livelihood programs:We have given 12 types of Vegetables seeds for kitchen garden for 550 families in 28 villages in order to help them generate their own food and also for the sale. We have helped people avail of ration cards which would make them eligible for free ration. Following are the other livelihood programs which we are doing currently ✓ Nachni seeds for 37 families
✓ Pea nuts for 43 families
✓ Saffron seeds for 14 Self Help Groups(SHGs) and 4 individuals
✓ We gave goats coasting 96,000/- to an Self Help Group of Women which represents 10 families
✓ We are helping 250 women who will represent 250 families for Vegetable selling, Dry fish, snacks, grocery shops, bakeries, flower mills, cutleries, chicken husbandries, agriculture, and other small scale business etc. This is being done with the objective of stopping the migration at the "source" from where the migration takes place and also to assist the migrants who are at the destination of poultries and who are here for the other daily wage employments. The people will have to pay back the money in a year or two which will be rolled out to assist more families for the livelihood programs in the coming years.
✓ We have connected villagers and youth for the daily wage work with various contractors of the local industries which will stop the migration in search of works
✓ We have assisted a migrant community with materials to build a small chicken husbandry to start their own small scale business
✓ Educational assistance: The COVID 19 has left the tribals penniless and hence the possibilities of dropping out from the schools are very high for their children as they have no money to buy the educational materials or to pay their fees. The social centre has tirelessly worked to promote the education in the tribal communities. Drop out at this stage will signify, nullifying the efforts of all that is done till now. The centre will be providing all the educational materials for 600 students in 25 villages and will sponsor 20 deserving students for their studies this year.
✓ Think Tank Team of Mumbai Diocese: Sr.Brigit is part of this team and actively participating in planning out immediate and long term reach out programs and accompaniment of the people of Arch Diocese of Mumbai.
✓ Snehavardhini Social Trust along with Sacred Heart church Roha has given medical assistance amounted up to Rs.46, 000 to two families in Koletty and Roha.
✓ They are helping people to rebuild their houses which they have lost in NISARGA Cyclone
✓ They are on a process to distribute 1300 house hold and WASH kits in which 60% of the beneficiaries are migrants
✓ We have a Christian migrant who live in Koletty which is the substation of our parish we have kept their spiritual nourishment alive even during the COVID 19 times through liturgical services
Mary Mullor, aci