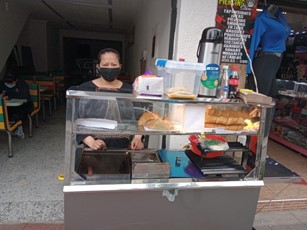 12 Jul

Looking through Jesus' eyes/COLOMBIA

Now, we are going to listen to another story that invites us to live a compassionate embrace of the most needy and to make Pope Francis' invitation to care for others, for our migrant brothers and sisters, a reality, breaking down the walls that prevent us from encountering others. We are a single family, the family of the human race

It is the story about Yorlady[1] and her son, Jony, who are fighting to survive in our country, it is the story of a mother's love, that invites us to look at others through Jesus' eyes and to re-live the experience of the Good Samaritan.

This is the story that Yorlady tells and which we can testify to.

I am Y. Rodríguez, a Venezuelan national, holder of identity card N° 16.028.101; mother of J. Rodriguez, who is 17 years old and who suffers from Cerebral Palsy, is confined to a wheel-chair and has to wear incontinence pads. Due to his condition he has undergone surgery several times in the Childrens' Orthopedic Hospital, in Caracas, Venezuela, (there is still a right hip surgery pending).

Due to the serious crisis in matters of health care, the economy, nutrition and security that is affecting my native country, Venezuela, and given the problems I was experiencing because of my opposition to the regime of President Nicolas Maduro, I found that I was forced to emigrate to Columbia on July 26th, 2019. I arrived in Bogota on July 28th, of the same year, seeking a better quality of life for my son and to continue taking care of his health needs.

On arriving here, everything has been an uphill struggle, nothing has been easy; I have been refused work on various occasions, just because I am from Venezuela, and it wasn't easy to rent something either. When they learned my nationality, I was told "no" several times, and, at the beginning, I managed to live with a sister-in-law and my niece but they emigrated to Chile, and since then, I have been living alone with my son, in rented accommodation, in the Restrepo neighbourhood, I have worked in re-cycling, selling candy in the street, taking turns to clean houses and turns helping the cook in the kitchen, but because of quarantine and COVID 19, work is no longer stable, which causes me problems with paying the rent and the acquisition of food and basic necessities for my son.

Thanks to the support of various people, and especially the Sisters in the school of the Handmaids of the Sacred Heart of Jesus, I have been able to solve a little the issue of food, I have also received help from them to start selling food, but as it is street stall with a food cart, I haven't had much success with the people who pass by there and really, the sales are very low, and I have even come across people who have offended me, because I am Venezuelan, and after having asked me for food, they tell me that they don't want anything to do with "Venecos" and they walk away without eating anything.

My son, needs incontinence pads, warm towels, personal hygiene supplies, milk and food to eat. It should be noted that due to his condition he is underweight; in Venezuela he had Pediasure and then, Ensure, but afterwards, it was impossible to keep on buying them. My son also needs irons for his feet because, due to his illness, his feet can gradually become deformed and using irons prevents this type of malformation which, in the long term, will prove very painful for him

I want to help my son, so that they can operate on him and he will not have to feel pain in his hip.

Y. Rodríguez

We have several stories, like this one, arrive at our door every day and invite us to go out to get involved and to complicate our lives, and, above all, to break down the mental walls that prevent us from "Contemplating the Heart of Jesus and looking at the world with active hope".

Human Mobility Team

School of the Handmaids of the Sacred Heart of Jesus – Bogota.
---
[1] Nombres ficticios