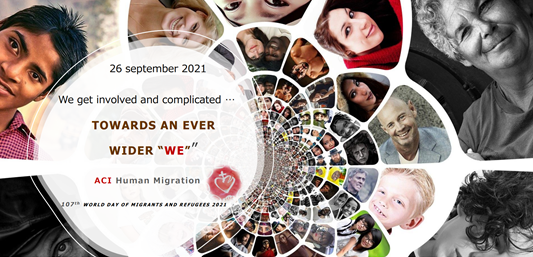 23 Aug

WE IMPLICATE OURSELVES AND COMPLICATE OUR LIVES TOWARDS AN EVER LARGER "US" WORLD DAY FOR MIGRANTS 2021

We are now in the last stretch of our journey towards the World Day for Migrants and Refugees, (WDMR) which will be celebrated on Sunday, 26th September, 2021

The ACI Human Mobility Team convokes you to two events in order to join in this Day:
Use the poster which is attached both in our communities and in our apostolic works. ESPAÑOL ENGLISH, ITALIANO, FRANÇAIS
We will make an ever larger "us" palpable by:

SHARED TABLE: Making our table larger, inviting a brother or sister who is excluded, cast aside or rejected to join us.

SHARED PRAYER: Uniting ourselves with the whole church in prayer, reciting the prayer suggested around the shared table
ORACION, PRAYER, PREGHIERA, PRIÈRE
On the other hand, we are letting you know that the International Union of Women Superiors General (USIG) and the Union of Male Superiors General (USG and the Scalabrini International Migration Institute (SIMI) have convoked a group of biblical scholars and international theologians together with pastoral ministers to present and discuss the current state of their research and to offer a response to the reality of the present movement of migrants. This International Conference, lasting three days, is an important opportunity for a reflection that leads to action.
5 of the co-ordinators of Human Mobility will take part in the Conference. At the same time, it will be possible to follow this live-streamed event on YouTube in 5 languages through the UISG.