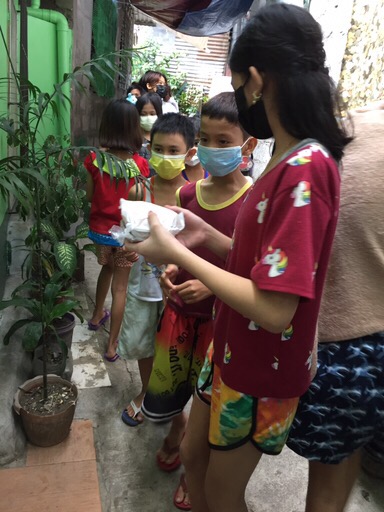 27 Sep

MISSION CENTER, DISPENSARY AND DAY CARE CENTER/PHILIPPINES

We have chosen the migrant and refugee day 2021 to bless the new places in which we are undoubtedly going to get involved and complicate ourselves much more with our migrant brothers and sisters …

Let us share how our heart was grateful after an intense day made possible by many collaborators…
We participated in the Online EUCHARISTIC CELEBRATION with FR. Bong Topino at the Holy Sacrifice Parish at 7:00 am. We also celebrated here in the Philippines the National Migrant Sunday
The sisters here in Loyola Heights helped each other to prepare the relief packs and cooked food to be given to the children and families in the area of Kaingin 2. The migrant families in Gubat area benefitted in what we shared.
The 2 professed sisters and 2 first year novices of Tandang Sora community  joined the sisters of Loyola Heights in Kaingin 2.
At 3:00pm Fr. Sergs from the EUDES priest came to bless the new SANTA RAFAELA MARIA MISSION CENTER AND DISPENSARY and the SANTA RAFAELA DAY CARE CENTER. We will provide health assistance to the poor people in the area most especially we give priority to the PWD'S (PERSONS WITH DISSABILITIES), malnourished children, the sick, etc. Thank you very much to THOM AND MARILOU AMANN AND DR. LUPPA PROJECT FOUNDATION from Germany who supported us financially to renovate our old convent into a new clinic for the poor. This year, we are trying our best to open our school for nursery if everything goes well we will open the center for a modular classes for the little children.
After the blessing we distributed food packs to the children, relief goods to the PWD'S and families. Then snacks of all the volunteers. The parents of our children in Santa Rafaela Maria School in Loyola heights contributed the foods we shared to the people.
Lani Saligumban, aci