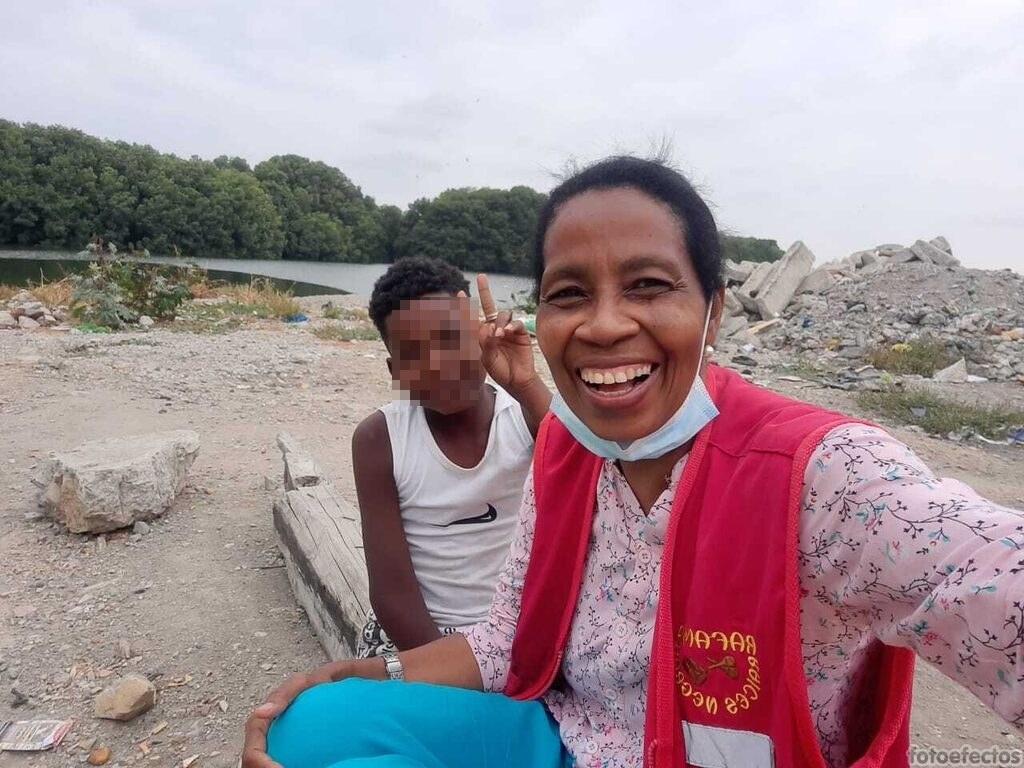 18 Oct

REPAIRING LIVES/ECUADOR

Esion[1], a little Colombian boy, who came to el Guasmo with his mother and brother, fleeing the violence and poverty of Colombia, is experiencing the journey that is made by so many boys and girls who live in a situation of human mobility.

Another real-life story is that of a little girl from Venezuela whom we affectionately nicknamed "la chamita". She joined our Project for the second time, went back to Ecuador in the second year of the pandemic, walked with her whole family all the way from Cúcuta because of the very same situation of violence and poverty, in order to seek refuge once again in Ecuador. I heard her describe that journey, without forgetting a single detail of each stage and every kilometer. What a journey!! After listening to her, I could not find peace and I suggested that we help these children, each with a name and a face, with a Project called "Black Roots", so that they can be integrated and their rights restored as people with dignity.

There are two situations of suffering that we must address, without delay, because it is urgent that we accompany healing and restitution processes for these little lives that have been destroyed.

Arrival in Ecuador was not easy for Esion and his family. Currently they are still living in neigbours' houses, but el Guasmo offers them the possibility of taking over open spaces, filling in part of the salty estuary in order to erect a little house made of planks of wood or cane, that can be finished quickly, with the hard work of his mother who goes out every day to the illegal shrimp farms of the area, with exploitational working hours from 5:00 – 18:00.

Given the fact that his mother is absent every day and that they have no one to care for them, thise means that Esion, 9 years old and his 12 year old brother are in a vulnerable situation, as they wander round the streets, excluded from the educational system, and the prey of any passing delinquent. They are children only cared for by their neighbours in the area.

A grasp of the reality reveals:
They cannot count on stable accommodation.
Their mother cannot count on secure work
The children cannot count on an identity card. (of either of the two countries)
They have been unable to access the Educational Process for want of documentation.
They are backward in their learning as they cannot read or write…
After becoming aware of the situation, we connected it directly to the "Project "Black Roots", we welcomed them in from 8:00 until 13:00, during which time we offer them learning activities, formation in human and Christian values, workshops on formation, small entrepreneurships; we teach them art and culture, to strengthen their cultural identity and we offer them cold drinks and lunch. We also visit the families regularly with the team and the project technician.
Currently, Esion and his brother, and " la chamita" are with us, they are very different children who have been badly treated, and to whom we must pay attention, care for and accompany them personally. They are very eager to learn and at the moment they have an educator to support their learning and balance their knowledge, by adapting their curricula in step with the levelling process so as to integrate them into the educational system.
When we understand their degree of vulnerability, we contact other organizations, ACNUR Civil Regsiter, CDH (Human Rights) in order to help them to acquire documentation, especially the children who do not have an Ecuadorian identity cards. We turn to Government Ministries to make these connections , so that they can be included in the educational system and Institutions for Special Protection.
At this time, we will help with this levelling of the children until the Ministry can evaluate their level of knowlege in centres near their homes, and in this way, effect their accompaniment through the Project together with the restitution of rights to children and adolescents.
We also offer support and accompaniment for families with social workers and psychologists. All of which helps us to include them in State Programmes.
We hope that next year we will be able to integrate 3 children into the educational system, who will stay with us so we can accompany them in their integral education.
WE WANT EVERY CHILD TO ENJOY DIGNITY AND FOR THEIR RIGHTS TO BE REURNED TO THEM IN EVERY COUNTRY IN THE WORLD.
WE HOPE THAT OUR DREAMS WILL COME TRUE AND THAT WE WILL RECOVER LOST STEPS.
Rocío Valdez. aci
---
[1] A fictious name