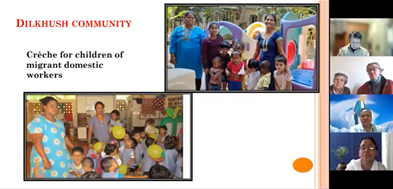 25 Nov

ACI BEST PRACTICES

Today we would like to share with all of you who are accompanying the journey that the Handmaids of the Sacred Heart of Jesus are making with our brother and sister migrants and refugees, the sessions on GOOD ACI PRACTICE that we held on three consecutive Saturdays (America, Africa-Europa, Asia) on the following themes:

"Everything that we do for migrants, we do WITH THEM"

"We are implicating and raising awareness in the new generations in School."

Juan Jairo from Colombia and Julienne from Cameroon

"We can only do this in Networks"

"The accompaniment of female migrants"

Dhay from Japan

"Sustainable responses to emergencies in the migrant population"

The first lessons learned confirmed the BEST PRACTICE which provided the title for the presentations. We also shared some further enriching nuances:
We should involve the beneficiaries from the very beginning as both protagonists and subjects of any activity and not only beneficiaries, given that the idea is to walk with them as brothers and sisters. The festive tone of the celebrations organised for World Migrant Day in Chile was a good example of this, with the inclusion of a young migrant woman from Eritrea and another one in the in the community and residence in Bologna. The energy of the victims of typhoons and COVID 19 in the Philippines in organising themselves and expressing their needs gives them a dignity that is in direct opposition to any hint of charitable handouts.
It is key, in our educational centres, to put the new generations in contact with different people and with migrants in order to "invest" in caring communities where social friendship is a priority value. Also, by involving our students we are able to raise awareness in their families and to involve them in commitments to  solidarity programmes as in the case of Colombia and the Venezuelan migrants who are so badly treated by so many sectors in that society. While in Cameroon, it is vital to educate them to appreciate the richness of diversity and their own values so as to avoid thinking that a better future lies in migrating to Europe.
In addition to networking with public, private and church organisations that we are weaving for example in Spain and France, in collaboration with Odös  and in Argentina together with the Pastoral Delegation for Migrants, in order to offer long-term and effective responses, there are other networks available too: RELIEF NETWORKS. These are networks that are being woven by listening, accompanying, sharing evoking memories and generating encounters. They are all about what FT 223 says: "Individuals who possess this quality help make other people's lives more bearable, especially by sharing the weight of their problems, needs and fears. This way of treating others can take different forms: an act of kindness, a concern not to offend by word or deed, a readiness to alleviate their burdens. It involves "speaking words of comfort, strength, consolation and encouragement" and not "words that demean, sadden, anger or show scorn".
The key to accompanying female migrants who have suffered violence is to generate trust so that they can reconnect with who they really are inside, try to renew themselves and so recover their dignity. In order to survive they have had to bury alive their own identites. In the case of some Philippino women in Japan, who work very often in Night clubs, etc they only open themselves to accompaniment if they perceive that they are being welcomed sincerely, without judging their reasons for their going go Japan, or for what they do …
In every emergency situation, whether it is provoked by natural disasters, socio-political crises or pandemics, there is always a group of people who are the most vulnerable of all and that group is the migrants , who are homeless, who immediately lose their work, who are not registered in any official system to receive aid … and as they can end up being seen as annoying or invisible, we need to fine tune our own way of looking at them…
These meetings, as well as sharing GOOD PRACTICE, allow us to evaluate our Project of Human Mobility of GC XX in all its dimensions:
Raising Awareness: allow ourselves to be moved in order to move others. Get to know the very many dimensions of this reality, open our eyes, break down barriers and prejudices. Generate  a culture of encounter and communion.
Prevention: work to lessen the direct causes of Human Mobility: through education, health, employment…
Acceptance: accept into our communities and apostolic works people who are in experiencing Human Mobility. Facilitate support with employment, listening, workshops, pyscho-social accompaniment , hospitality, integration…
Contact: Communities and Sisters who are familiar with the situation of people and families who are on the move, can network with other Sisters and communities: UNANIMA, NGOs and institutions, that enable contacts between ourselves and others
Volunteering: encourage others and ourselves : Sisters, ACI Family, Young people … to be present and collaborate among ourselves and with others like JRS, in order to offer a response to People on the Move.
Support, sustainability and financial help: provide funding to receive them. Collaborate in fund raising activities, , PROACIS and other organizations. Offer furniture, open our houses or empty spaces.
Prayer: accompany everyone with prayer. Count, in a special way, on the intercession of the elderly and sick Sisters. Do this through nour apostolic eucharistic adoration.
So, now we are on the threshold of CG XXI, le tus renew, filled with HOPE, the commitment we made nearly 5 years ago with the following wording:
"In the light of the contemplation of the pierced Heart of Christ, General Congregation XX wants to RESPOND AND LIVE WITH PASSION the option for persons who are suffering in the world. Each one of us  is an active and necessary link in this chain of solidarity and mercy. Let us contribute our grain of sand to the whole so that networking we may be able in each place to raise awareness, anticipate, welcome , support, pray and commit ourselves to those persons in our world, especially women and children, who are suffering in the terrible situation of Human Migration".     
Constanza, M José and Inés
Spearheading team