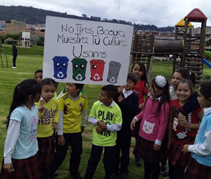 14 Nov

ENVIRONMENTAL EDUCATION. BOGOTA

The school of the Handmaids of the Sacred Heart of Jesus in Bogota implements obligatory multidisciplinary projects in different areas of knowledge. Therefore, the Environmental Project PRAE (Project of Environmental Education) is directed and led by the area of Natural Science. This project aims to improve the relationship between society and nature, beginning with the concern for protection of the environment from the perspective of the reestablishment of the minimal conditions of the ecosystem in order to guarantee life of those currently on earth as well as for future generations. The project responds to one of the Pope's challenges for the care of our common home.

The principal objective of the development of the project is to promote experiences that foster the culture of care of the environment, by means of a compassionate embrace of the earth, humanity and the other.

The PRAE environmental project encompasses different lines of action and experiences:
Seeds of research works throughout the year; it is a space that favors the meeting of knowledge and pedagogical practices in all the members of the community.
Raising awareness and skill development of all members of the educational community about environmental and local problems.
Recycling of solid waste matter within the educational institution and its families.
Working in the school vegetable garden and plant nursery "Santa Rafaela Maria," where they work in a sustainable way in order to improve dietary habits, integrating the families of the students who are the beneficiaries of the project.
Making hand-crafted paper from the residuals generated in the institution.
Marcela Grajales Castaño
Teacher of Natural Sciences
PHOTOS OF THE GARDEN AND PLANT NURSERY, OF THE DAYS OF RAISING AWARENSS AND SKILL
DEVELOPMENT, AND OF THE CRAFTING OF THE PAPER