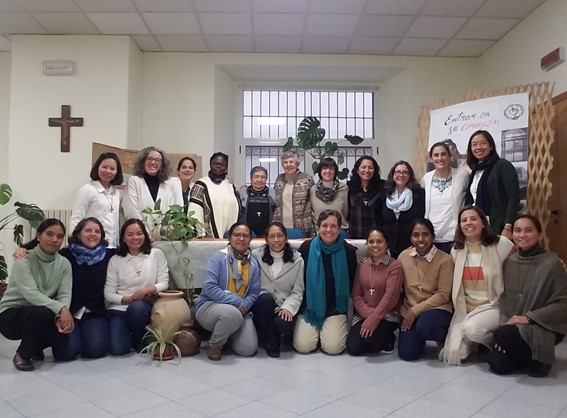 02 Nov

End of the Third Probation

With great joy, we reached the end of our Third Probation. In the closing ceremony, we were accompanied by our sister and General, Rosario Fernández Villarán, along with her assistants. It was a very beautiful moment. Charo invited us to always remember all the good we have received, as well as the Sacred Word that God has spoken to each one of us, and to not be afraid of the future because He goes with us. She reminded us that He sent us to give Life to the world: the richness of our universality is now displayed in the eleven countries to which we are being sent.

We want to thank God for being "The Very Lowly One." We thank the God of processes who engaged each one of us, who has accompanied us and has pronounced his Sacred Word and his Beauty over us, which is even more beautiful when we pronounce it together. We thank him for being the God who sustains time and for giving each one what she needed, at her own pace. We thank him for being the God who trusts in us and whose trust overflows in us. We thank our God who tells us "I am with you, I loved you, I love you and I will love you. You are a gift." After living these months, we reaffirm that with Him we are more ourselves, more integrated, and happier. Before this great God, "the only thing left for us is to give thanks," as Pilar said.

Our Tertianship group has been a gift: very universal, very different, and at the same time, very united as sisters. We shared our life together in such a way that made us grow in our sense of belonging to each other and to the universal body.

We thank the General Team for their trust in each one of us, for their hope in our processes, and above all, for being very much our sisters. Their way of being in community was a reflection of God's love. They made us feel at home and like family. We also want to thank all the sisters who, in these months, led us in workshops and shared their way of embodying the charism, their experiences, and their knowledge. Thank you for your effort and dedication. Also, thanks to all those who accompanied us in prayer…we have felt you very close throughout this time. Finally, many thanks to the Province of Italy, which has received us with so much love.